AMS takes the concern of "Made In China" away for our customers.
AMS-China has over 15 years of experience working with Western cultures and USA customers. Our passion for manufacturing excellence has created a very strong company that is dedicated to meeting our customer's requirements and getting the results they want. When you work with AMS you are dealing with professionals who are looking for long-term business relationships.
AMS-USA is a Delaware corporation and has over 15 years of combined experience in directly working with suppliers in Asia and we have developed expertise in understanding and appreciating the culture of Asia suppliers. You deal directly with USA based personnel from concept to mass production to EOL.
AMS is comprised of professionals that have many years of technical experience and that have learned the lessons that come from poor planning & execution. We know how to be successful…it is easy….honor promises made and be a solutions provider….not a problem!
Fully Factories Price and Technical Support
AMS has four more major factories who are working in

Plastic Injection Molding

Metal Stamping

Die Casting & CNC Machining

Assembly
So our customer will enjoy factories' cost and various technical support.
AMS understands Quality & Price are equally important to our customers.
The management of AMS are manufacturing professionals who have worked hard to earn the respect of their peers and will not sacrifice the quality of their products or services for low cost. Our pricing includes high quality!
AMS Manufacturing Philosophy
AMS believes that sometimes you have to "go slow to go fast".
Properly scoping the customer's project and doing the requisite planning in the initial phase of development will generally lead to faster product launches and fewer unplanned excursions.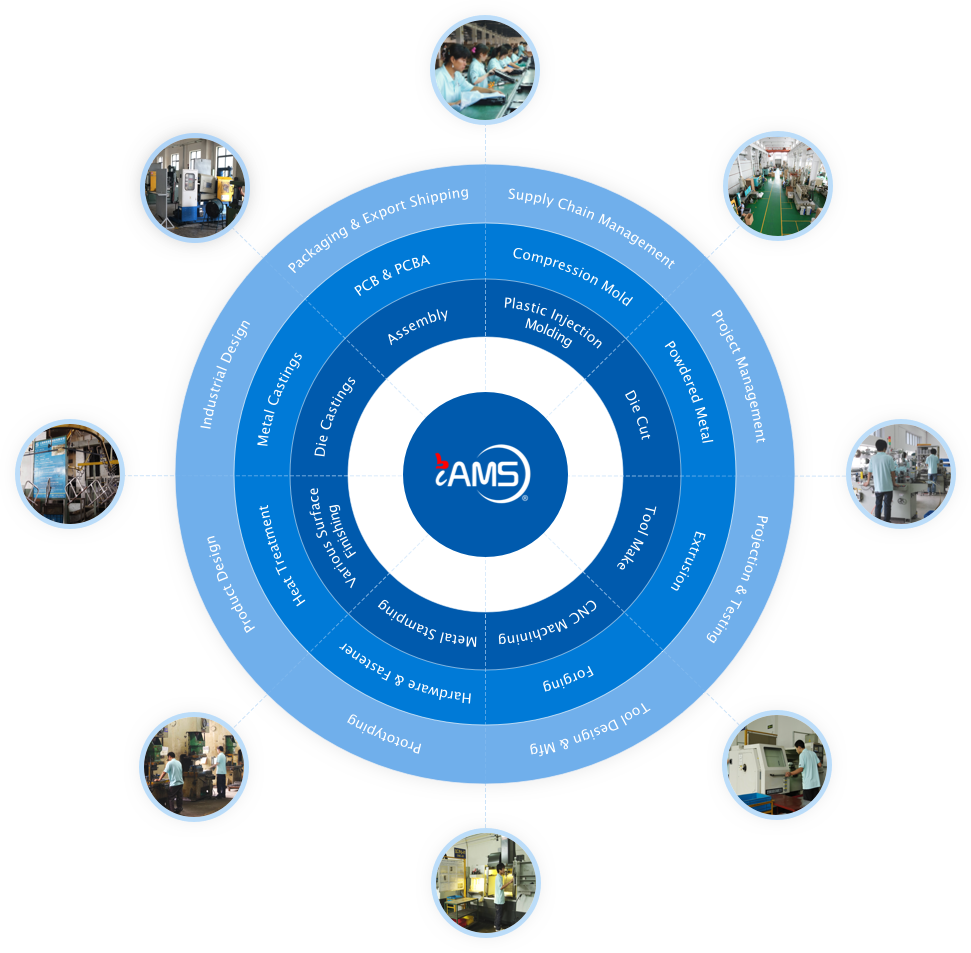 Quality is achieved by design and clear understanding of specifications:
AMS engineering team will analyze the customer's design and provide DFM feedback. AMS designed products will include customer review and approval before proceeding to manufacturing. Our team is fully experienced in DFMEA/PFMEA tools and appreciates how these tools accompanied by robust specifications will produce quality products by design not by chance.
AMS manufacturing operations are ISO/TS16949 certified and perform 100% final inspection of products. We have over 30 years of experience in supplier management and will only use qualified suppliers and manufacturing partners.
AMS believes exceptional customer service is key to our continued success:
AMS understands that referrals from our satisfied customers is our life-blood and so we work hard to ensure each customer is pleased with our quality and service.
AMS strives to deliver the best products, the best service, and the best value in the industry.